International Forum on Food and Nutrition in NYC, September 2018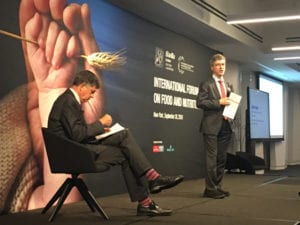 Every year, the BCFN Foundation organizes the International Forum on Food and Nutrition: an event founded to provide an open space for interdisciplinary discussion on issues of nutrition and sustainability.
Experts, international opinion-makers and young research fellows meet in an event founded to share evidence, scientific data and best practices, with the goal of creating a model of sustainable food to reach the United Nations Sustainable Development Goals.
The event is intended to identify effective, concrete solutions on urgent issues such as the relationship between hunger and obesity, the proper use of natural resources, the reduction of food waste, the promotion of sustainable diets, the environmental impact of agriculture and the effects of climate change.
Follow us to keep up to date with all the 2018 Forums!